Monitoring Sites - Wombat
Introduction | Contacts | Purpose | Site Description | Measurements | DEM | Pictures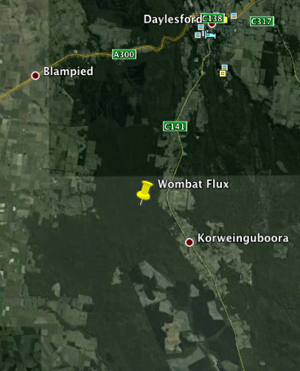 The Wombat Flux research site was established in January 2010. The site is located within the Wombat State Forest, between Ballarat and Daylesford in Central Victoria, 100km west of Melbourne.
It is managed by The University of Melbourne in collaboration with Monash University and the Department of Sustainability and Environment of Victoria.
See real time data for the Wombat flux station

.
Dr. Stefan Arndt
Professor for Physiological and Ecosystem Ecology
School of Ecosystem and Forest Sciences
University of Melbourne
500 Yarra Boulevard
Richmond, Victoria, 3121, Australia
ph: +61 3 9035 6819
mob: +61 400 655 023
https://stefanarndt.wordpress.com/
Dr. Nina Hinko-Najera
School of Ecosystem and Forest Sciences
University of Melbourne
4 Water Street,
Creswick, Victoria 3363, Australia